Книги, доступные научным сотрудникам и аспирантам НИИТС
В библиотеке НИИТС для научных сотрудников и аспирантов имеются различные книги по современным инфокоммуникациям.
Аспиранты Университета, которым при работе над диссертацией нужна та или иная книга из этой Библиотеки, могут обратиться к заведующему кафедрой Систем коммутации и распределения информации проф. Б. С. Гольдштейну со страницы online-диалога.
[1] [2] [3] [4] [5] [6] [7] [8] [9] [10] [11] [12] [13] [14] [15] [16] [17] [18]
Testing Integrated QoS of VoIP: Packets to Perceptual Voice Quality
Vlatko Lipovac
Enables the QA, networking and performance teams to test and optimize their VoIP QoS infrastructure
Includes techniques for reducing one-way delay, jitter, and data loss for VoIP traffic, while retaining the performance of other business- critical network applications
Reviews VoIP and all supporting and enabling protocols
Voice over IP is the term used in telephony for a set facilities that manages the delivery of digital voice information sent in discrete packets using the Internet Protocol, rather than traditional circuit-committed protocols of public telephone networks. The new technology of sending voice information in digital form is addressed completely in this book, which details the techniques of testing VoIP networks to ensure quality of service. It also includes information on reducing one-way delay, jitter, and data loss for VoIP traffic, while retaining the performance of other business-critical network applications...
Объём: 350 стр.
Издательство: Auerbach, 2007
ISBN: 0-84933-521-3
The IP Multimedia Subsystem (IMS): Session Control and Other Network Operations

Travis Russell
Build and maintain a converged multimedia network environment. Seamlessly merge the Internet with cellular and wireless networks using next-generation IMS technology and the comprehensive information contained in this authoritative resource. The IP Multimedia Subsystem: Session Control and Other Network Operations details the steps necessary to deliver Web-based content, VoIP, streaming multimedia, conference calls, and text messages across one integrated network. Learn how to transition to IMS architecture, communicate with legacy networks, control sessions using SIP, and connect subscribers to network services. In-depth coverage of the latest IMS security, business intelligence, customer care, and billing procedures is also included.
Migrate legacy networks to IMS-based technology
Use the Proxy, Interrogating, and Serving Call Session Control Functions
Interface with TDM-based, wireless, wireline, and VoIP networks
Handle private and public user identities, domain names, and URLs
Establish SIP sessions and connect subscribers to network services
Deploy reliable network, access, and user-level security
Prevent eavesdropping, DoS, message tampering, and amplification exploits
Track services rendered and charge subscribers using DIAMETER and CDRs
Travis Russell is a senior manager in the Communications Software Solutions Group at Tekelec. He holds numerous patents and is the author of several books including Signaling System #7.
Объём: 224 стр.
Издательство: McGraw-Hill Osborne Media; ?????? ???????, 2007
ISBN: 0-07148-853-7
Содержание
Optimization Modelling: A Practical Approach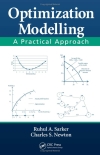 Ruhul Amin Sarker
Illustrating the influence of modelling on the decision making process, this bookhelps readers come to grips with a wide range of modelling techniques. The authors present these techniques in a straightforward manner illustrated by examples. They analyze the formulation and modelling of a number of well-known theoretical and practical problems and touch on solution approaches. The book also discusses the use of software packages in solving optimization models without going into mathematical details and complex solution methods. The authors draw directly from their experience to provide lessons learned when applying modelling techniques to practical problem solving and implementation difficulties.
Объём: 504 стр.
Издательство: CRC, 2007
ISBN: 1-42004-310-2
Содержание
Traffic Management in IP-Based Communications
Trinh Anh Tuan
Traffic Management in IP-Based Communications provides a comprehensive discussion on how to effectively and efficiently manage traffic over the Internet. This book offers practical traffic management solutions in the latest technologies, including Voice-over IP (VoIP), peer-to-peer, UMTS networks, IPv6, and optical networks. It examines performance-related issues of traffic control techniques as well as economic issues such as charging and accounting on Quality of Service (QoS). It illustrates why and how QoS can be enforced by proper traffic management. This book is ideal for work in network operations engineering, research and development, and computer science.
Объём: 600 стр.
Издательство: Auerbach; ?????? ???????, 2007
ISBN: 0-84939-577-1
[1] [2] [3] [4] [5] [6] [7] [8] [9] [10] [11] [12] [13] [14] [15] [16] [17] [18]
Страница 3 из 18
Всего книг в базе данных: 69