Книги, доступные научным сотрудникам и аспирантам НИИТС
В библиотеке НИИТС для научных сотрудников и аспирантов имеются различные книги по современным инфокоммуникациям.
Аспиранты Университета, которым при работе над диссертацией нужна та или иная книга из этой Библиотеки, могут обратиться к заведующему кафедрой Систем коммутации и распределения информации проф. Б. С. Гольдштейну со страницы online-диалога.
[1] [2] [3] [4] [5] [6] [7] [8] [9] [10] [11] [12] [13] [14] [15] [16] [17] [18]
Convergence Technologies for 3G Networks: IP, UMTS, EGPRS and ATM
Jeffrey Bannister, Paul Mather, Sebastian Coope
The merging of voice and data on a single network opens powerful new possibilities in communications. Only a fundamental understanding of both technologies will ensure you are equipped to maximise their full potential.
Convergence Technologies for 3G Networks describes the evolution from cellular to a converged network that integrates traditional telecommunications and the technology of the Internet. In particular, the authors address the application of both IP and ATM technologies to a cellular environment, including IP telephony protocols, the use of ATM/AAL2 and the new AAL2 signalling protocol for voice/multimedia and data transport as well as the future of the UMTS network in UMTS Release 5/6 All-IP architecture.
Convergence Technologies for 3G Networks:
Explains the operation and integration of GSM, GPRS, EDGE, UMTS, CDMA2000, IP, and ATM.
Provides practical examples of 3G connection scenarios.
Describes signalling flows and protocol stacks.
Covers IP and ATM as used in a 3G context.
Addresses issues of QoS and real-time application support.
Includes IP/SS7 internetworking and IP softswitching.
Outlines the architecture of the IP Multimedia Subsystem (IMS) for UMTS.
Convergence Technologies for 3G Networks is suited for professionals from the telecommunications, data communications and computer networking industries.
Объём: 670 стр.
Издательство: John Wiley & Sons, 2004
ISBN: 0-47086-091-X
Communicating Systems and Networks: Traffic and Performance
Georges Fiche, Gerard Hebuterne
Techniques that ensure traffic performance in telecommunication systems and a methodology that can be applied to all phases of development are presented in this introduction to telecommunication networks.
Объём: 528 стр.
Издательство: Hermes Science / Kogan Page Limited, 2004
ISBN: 1-90399-635-X
??????? (PDF, 21,5 ??)
Telecommunications Management
Nolan Vincent Jones
In today's highly competitive technology-influenced telecommunications industry, customers are accustomed to a higher level of personal service and personalized product and service offerings. To meet that higher standard, companies need to learn and anticipate a customers needs in great detail and be able to respond quickly. This book provides business strategies for providers to effectively manage their business processes while evolving their information and business system architectures to support the needs of the consumer. It provides the background necessary to understand telecommunication principles, manage the business, the staff, and the technology. This book takes a profound look at the telecommunication industries history, its business processes and the latest technologies driving the industry including wireless and fiber technologies. This is an ideal textbook for introducing students to all facets of the telecommunications field as well as a great desktop reference for experienced professionals working in the industry. It addresses core business areas such as customer care including effective customer relationship management (CRM), business process engineering, disaster recovery, telecom project management, people management, and billing, and much much more. It addresses management of product offerings across affiliates and the business processes which need to be in place to support integration of different business system architectures. Your company can use the information in this book to guide marketing, sales, and customer service activities that identify, attract and keep profitable customers. It provides the evolution of the telecommunications industry from its initial roots in addition to important milestones driving towards the present day. It discusses Federal Regulations in detail and provides the reader with a clear understanding of how different telecom entities are affected.
An important resource covering every aspect regarding the subject of telecommunications from the history, through every critical business and managerial process, to the latest technologies driving the industry such as VoIP, ATM, Wireless, and Fiber. Mr. Jones with his extensive knowledge in the industry offers readers an opportunity for readers to understand today's major technical changes in telecommunications, and how to integrate them into an organization's telecom strategy.
Объём: 300 стр.
Издательство: Virtualbookworm.com Publishing, 2004
ISBN: 1-58939-619-7
OSS for Telecom Networks: An Introduction to Network Management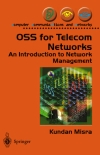 Kundan Misra
Modern telecom networks are automated, and are run by OSS software or "operational support systems". These manage modern telecom networks and provide the data that is needed in the day-to-day running of a telecom network. OSS software is also responsible for issuing commands to the network infrastructure to activate new service offerings, commence services for new customers, and detect and correct network faults.
The capabilities of OSS software are central to the service features that can be offered by telecom service providers. On the other hand, the limitations of OSS software translate into limitations on service offerings. It is important for telecom consultants, sales people and managers to understand OSS software. This book introduces those systems to non-technical readers, and will be essential reading for telecommunications professionals who need an easy-to-read overview of OSS systems, and also for those taking advanced undergraduate, postgraduate, and other courses in telecommunications.
Объём: 302 стр.
Издательство: Springer; ?????? ???????, 2004
ISBN: 1-85233-808-3
[1] [2] [3] [4] [5] [6] [7] [8] [9] [10] [11] [12] [13] [14] [15] [16] [17] [18]
Страница 12 из 18
Всего книг в базе данных: 69