Книги, доступные научным сотрудникам и аспирантам НИИТС
В библиотеке НИИТС для научных сотрудников и аспирантов имеются различные книги по современным инфокоммуникациям.
Аспиранты Университета, которым при работе над диссертацией нужна та или иная книга из этой Библиотеки, могут обратиться к заведующему кафедрой Систем коммутации и распределения информации проф. Б. С. Гольдштейну со страницы online-диалога.
[1] [2] [3] [4] [5] [6] [7] [8] [9] [10] [11] [12] [13] [14] [15] [16] [17] [18]
LTE Signaling: Troubleshooting and Optimization

Ralf Kreher, Karsten Gaenger
A comprehensive reference on the call procedures of 4G RAN and Core networks, LTE Signaling, Troubleshooting and Optimization describes the protocols and procedures of LTE. It explains essential topics from basic performance measurement counters, radio quality and user plane quality to the standards, architecture, objectives and functions of the different interfaces. The first section gives an overview of LTE/EPC network architecture, reference points, protocol stacks, information elements and elementary procedures. The proceeding parts target more advanced topics to cover LTE/EPC signalling and radio quality analysis.
This book supplements the information provided in the 3GPP standards by giving readers access to a universal LTE/EPC protocol sequence to ensure they have a clear understanding of the issues involved. It describes the normal signaling procedures as well as explaining how to identify and troubleshoot abnormal network behavior and common failure causes.
Enables the reader to understand the signaling procedures and parameters that need to be analyzed when monitoring UMTS networks
Covers the essential facts on signaling procedures by providing first hand information taken from real LTE/EPC traces
A useful reference on the topic, also providing sufficient details for test and measurement experts who need to analyze LTE/EPC signaling procedures and measurements at the most detailed level
Contains a description of LTE air interface monitoring scenarios as well as other key topics up to an advanced level
LTE Signaling, Troubleshooting and Optimization is the Long Term Evolution
successor to the previous Wiley books
UMTS Signaling and UMTS Performance Measurement
.
Объём: 296 стр.
Издательство: Wiley, 2011
ISBN: 978-0-470-68900-4
Triple Play: Building the converged network for IP, VoIP and IPTV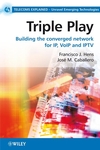 Francisco J. Hens, Jose M. Caballero
«Triple Play» is a combination of Internet access, voice communication (telephony), and entertainment services such as IP television and video on demand.
The erosion of the traditional voice service, together with the ever-increasing competition between companies, is pushing the telecommunications industry towards a major shift in its business models. Customers want more services in a more flexible way. Today, this shift can only be carried out by offering converged services built around the Internet Protocol (IP). Triple Play, a bundle of voice, video, and data services for residential customers, is the basis of this new strategy.
Hens and Caballero explain how and why the telecommunications industry is facing this change, how to define, implement and offer these new services, and describes the technology behind the converged network. Triple Play analyses a number of business strategies to minimise costs, while migrating infrastructures and offering new services.
Triple Play:
Describes the elementary concepts of triple play service provision and gives detailed technical information to highlight key aspects.
Discussed access networks, transport, signaling, service definition and business models.
Covers the latest innovations in Triple Play services such as Ethernet in the First Mile (EFM), VDSL2 (Very High Speed DSL second generation), pseudowires andMultiprotocol Label Switching (MPLS).
Explores video solutions (encoding, IPTV, VoD) alongside transmission and switching technologies (Ethernet, DSL, PON, NG-SDH).
Includes a chapter on IP Multimedia Subsystem (IMS) and on fixed/mobile convergence.
Triple Play: Building the Converged Network for IP, VoIP and IPTV provides decision makers, engineers, telecommunications operators, network equipment manufacturers, installers and IT managers with a thorough understanding of the changes of traditional voice service and its impact upon the telecommunications industry.
Объём: 416 стр.
Издательство: Wiley, 2008
ISBN: 0-47075-367-6
Содержание
Retrial Queueing Systems: A Computational Approach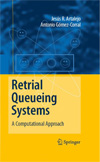 Jesus R. Artalejo, Antonio Gomez-Corral
The application of auto-repeat facilities in telephone systems, as well as the use of random access protocols in computer networks, have led to growing interest in retrial queueing models. Since much of the theory of retrial queues is complex from an analytical viewpoint, with this book the authors give a comprehensive and updated text focusing on approximate techniques and algorithmic methods for solving the analytically intractable models.
Retrial Queueing Systems: A Computational Approach also
Presents motivating examples in telephone and computer networks.
Establishes a comparative analysis of the retrial queues versus standard queues with waiting lines and queues with losses.
Integrates a wide range of techniques applied to the main M/G/1 and M/M/c retrial queues, and variants with general retrial times, finite population and the discrete-time case.
Surveys basic results of the matrix-analytic formalism and emphasizes the related tools employed in retrial queues.
Discusses a few selected retrial queues with QBD, GI/M/1 and M/G/1 structures.
Features an abundance of numerical examples, and updates the existing literature.
The book is intended for an audience ranging from advanced undergraduates to researchers interested not only in queueing theory, but also in applied probability, stochastic models of the operations research, and engineering. The prerequisite is a graduate course in stochastic processes, and a positive attitude to the algorithmic probability.
Объём: 318 стр.
Издательство: Springer, 2008
ISBN: 978-3-540-78724-2
Next Generation IPTV Services and Technologies
Gerard O'Driscoll
Detailed coverage of the underlying technologies required to build an end-to-end IPTV system.
The television entertainment industry is currently experiencing a major transformation as broadband subscribers and improvements in compression techniques for digital video content continue to grow. This growth is fueling the demand for a new generation of technology professionals who will be responsible for implementing IP-based video services and digital home services around the world. Next Generation IPTV Services and Technologies explores key challenges associated with successfully managing the technical operation of an IPTV networking infrastructure and provides networking and IT specialists entering the IPTV sector with sound coverage of state-of-the-art technologies used to build end-to-end IPTV systems. Coverage includes:
IPTV network distribution technologies
IPTV real-time encoding and transportation
Broadcasting linear programming over IPTV
IPTV consumer devices
IPTV conditional access and DRM systems
Moving IPTV around the house
Video-on-demand over IP delivery networks
Additionally, this book examines IPTV technical subjects that are not included in any other single reference to date: Quality of Experience (QoE), techniques for speeding up IPTV channel changing times, IPTV CD software architecture, Whole Home Media Networking (WHMN), IP-based high-definition TV, interactive IPTV applications, and managing an IPTV network on a daily basis.
With a focus on changing job tasks and knowledge requirements for professionals, Next Generation IPTV Services and Technologies enables telecom operators, wireless mobile providers, cable TV companies, media companies, broadcasters, video production companies, and Internet portal companies to meet the demands of designing, implementing, and supporting end-to-end IPTV systems. Complete with helpful flowcharts and engineering schematics, it also serves as an ideal supplemental text for graduate- and postgraduate-level networking and IP protocol courses.
Объём: 512 стр.
Издательство: Wiley-Interscience, 2008
ISBN: 0-47016-372-0
Содержание
[1] [2] [3] [4] [5] [6] [7] [8] [9] [10] [11] [12] [13] [14] [15] [16] [17] [18]
Страница 1 из 18
Всего книг в базе данных: 69