Protocol-Testers
The certificates of Ministry of the Russian Federation for Communications and Informatization
# OS/1-KIA-45, # OS/1-KIA-99, # OS/1-KIA-209
SNTLite

Compact analyzer of the modern signaling systems of the overall communication network of Russia. It will solve all your problems concerned with diagnostics of switching nodes and exchanges.

SNT-7531

Portable multiport analyzer/simulator is intended for all types of professional testing of the telecommunication equipment in PSTN/ISDN, GSM networks, regional data transmission networks WAN, local networks LAN, dedicated and privat networks. The device carries out multiprotocol full duplex monitoring and analysis of 8 E1, calls simulation and generation by 16 E1 for checking the adequacy to Russian specifications, ITU-T recommendations and ETSI standards.

SNT-4268

The universal tester of interoffice signaling protocols in existing analog and digital telephone networks, including 2CAS signaling, multifrequency signaling "MFC shuttle", "MFC packet, "MFC train", 1CAS, "norka", inductive code, 3-wire trunk signaling, 2600 Hz signaling, European R2, etc.
---
EKRAN, Group of Companies

www.ekran.su

NGN equipment production, installation and distribution.
Protocol-Testers production.

60-A, Bolshoy Sampsonievsky pr., Saint-Petersburg, Russia, 194044

Phone/fax: +7 (812) 333 26 26
Email: pochta [nospam] ekran.su
Representative in Israel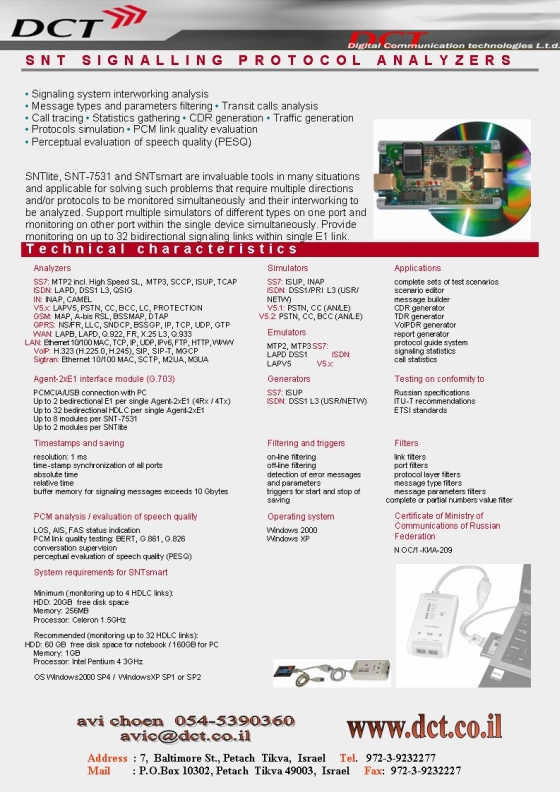 ---
TOP-4M for SORM
Protocol-tester of the lawful interception (SORM) officially recommended integrated facility for testing SORM interface over X.25 protocol in switch nodes and switches of PSTN of Russia and CIS countries. It includes SORM control point simulator, equipped with monitoring facilities for signaling and conversation channels, includes facilities for scenarios creation and startup and for loading generation; provides assembly testing of SORM facilities, which are realized in switching equipment.
Geography of the users
Protocol-testers are widely used nowadays in such counties as Australia, Austria, Byelorussia, Great Britain, Germany, Israel, Ireland, Kazakhstan, Canada, China, Korea, Russia, USA, Turkey, Finland, France, Japan, etc.
Our protocol-testers are used by such firms as Alcatel, Bosch, GDT, Daewoo, Hanwha, Huawei, LGIC, Lucent Technologies, Matra, NEC, Nortel, Rolm, Samsung, Siemens, Simko, Stanilite, Tadiran, Telrad, Tesla, Quallcom.
Phone/fax:+7 (812) 333 26 26
E-mail: office@ekran.su